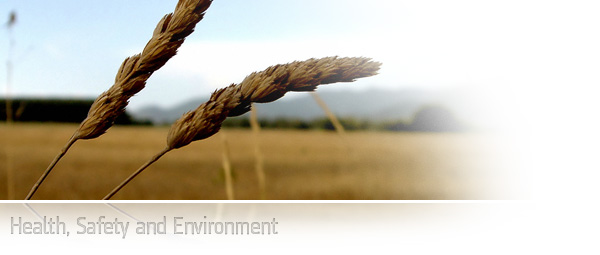 HEALTH
Oudeh Petroleum Company attaches great importance to its employees' and Contractors™ health and guides to conduct occupational health work in conformity with Syrian Arab Republic legislation as well as the Regulations on Occupational Health of Sinopec Corp.
In 2009, OPC implemented the HSE management system, adhered to the principle that "The health and safety of its employees are high priority considerations while OPC is conducting its business". Site health and occupational disease prevention and professional medical assistance are constantly evaluated and improved.
The Company is making every effort to improve working conditions, guarantee employees' and contractors' health, create harmony in the working environment conditions and implement sustainable development, while developing a self-care culture, and has intensified occupational programs such as Annual Vaccination Campaigns, Awareness While Working With Extreme Temperatures, Auditing Catering and Accommodation Hygienic Conditions, and Emergency Medical Procedure".
__________________________________________________________________________________
| | |
| --- | --- |
| Safe Operations is OPC top priority, as declared and endorsed by Senior Management in the HSE Policy: "All accidents and incidents are preventable and OPC™s Management is responsible to ensure incidents and accidents are prevented" and "the health and safety of its employees, contractors, the public and protection of the environment are high priority considerations while OPC is conducting its business". The Company's HSE objectives are to seek zero incidents, no harm to health or deterioration of environment, so as to build a sound reputation in Syria as a world-class HSE performer. | |
Through hazard identification and risk assessment, OPC is developing and implementing a comprehensive HSE management system, which includes a set of procedures and standards, which are continuously being improved and widely disseminated among our employees and contractors, in order to eliminate and positively manage hidden safety perils from existing work procedures and from process and production facilities. The following four safety principles are always observed:
suspension of works that may represent immediate danger to life, health, environment and property
every worker has the right to work in safe working environment
a worker has the right to refuse to work in unsafe conditions or when he / she has not been trained to perform a particular task
the worker has the right to be informed of the existing risks in our industry.
The Company strengthens its safety program through the involvement of all personnel and all positions to permanently monitor key facilities and vital operating procedures, achieving accident prevention measures and developing where needed, emergency response plans together with emergency response drills, which have improved our emergency handling capability. OPC evaluates the overall safety program by tracking the HSE Key Performance Indicators, which provide a quantifiable metric that reflects the achievement of annual HSE goals and objectives. Efforts shall be made to intensify training and improve accountability of HSE systems to achieve an even better HSE perform. __________________________________________________________________________________
| | |
| --- | --- |
| OPC is committed to operating in strict compliance with Syrian Arab Republic environmental laws, rules and regulations, upholding the principle of our HSE Policy "OPC minimizes risk to its employees, contractors, suppliers, customers, the public and the environment". The Company has committed itself to a "Zero Discharge Policy" where no product or sub-product is delivered to the environment. | |
OPC carries out environmental protection through all operational processes and fulfill environmental protection responsibilities in accordance with the environmental protection highlighted in HSE management system, which includes among others the following programs:
• Reclamation of inherited oily water pits
• Bioremediation of hydrocarbon contaminated soil
• Installation of waste water treatment plants
• Management of waste water and drilling fluids
We continue to implement a clean working environment in an active manner, and in alignment with Syria's efforts to reduce energy consumption and pollution emission. OPC attaches great importance to water pollution control, and will continue to actively participate in cooperation with government and local authorities in solving the environmental situation of oil seepage at the Taban Spring.
OPC is moving forward to eliminate cold venting of gas and the ultimately eliminate flaring of gas once infrastructure is established at wellpads.
__________________________________________________________________________________
Useful links.








WebMail